Lately, I've been very interested in cake stands. Not because I bake often, but because I wanted to use one to display my jewelry! For instance, isn't this blue-and-white china stand just adorable?
If you think about it, cake stands and cupcake stands are the perfect way to show off your baubles: they provide a double layer of space, and free up your jewelry counter. Plus, the elevated tiers make it easy to see your "shinies".
If you know anything about me, you know that I love to craft what I can't afford, so here's my super easy (and almost free) version of the two tiered jewelry cake stand!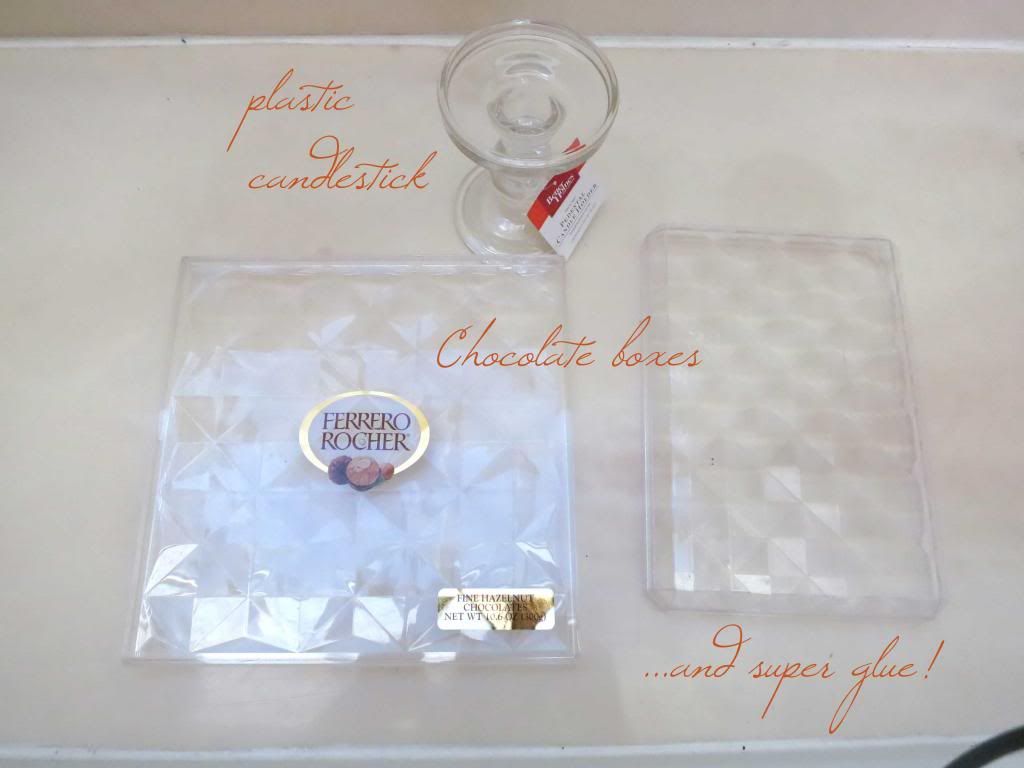 Yep, these are Fererro Rocher boxes. My family loves the chocolates, and we go through at least four boxes a year. I've always kept these boxes because I love their sturdiness, and the beveled tops. Pretty fancy for a plastic box, huh?
To glue your stand together, apply super glue around the bottom edge of the candleholder and firmly press the lower plastic tier to the glue for 30 seconds. Then, apply glue to the top of the candlestick and center the top tier on the candlestick. Let your jewelry stand dry overnight (and don't put anything on it yet).
(Note: You can glue the candlestick right side up, or like I did, upside down. My reason for doing so is because I didn't like the bulky base of the candlestick taking up so much of the storage room on the bottom tier. You can hardly tell that it's upside down once you add accessories.)
And now you're done! Wow, this DIY was only one step long! *bows. There you have it, the easiest (and most eco-friendly) two tiered cake stand/jewelry organizer. Any old candlestick holder or plastic tray will work. And now you have my permission to buy some fancy chocolates (so you can use the boxes, of course).
Extra Credit:
I thought of this after my DIY, but instead of using candlestick holders, you can use a glass cup or a round container. Before gluing the top tier to the cup rim, fill the cup with pebbles, seashells, or small decorative marbles, to add a special touch to the supporting pillar of your cake stand.
Homework:
If you don't have the materials to make your own DIY tiered jewelry stand, don't fret! I found some cool cake stand options for you to peruse at your pleasure.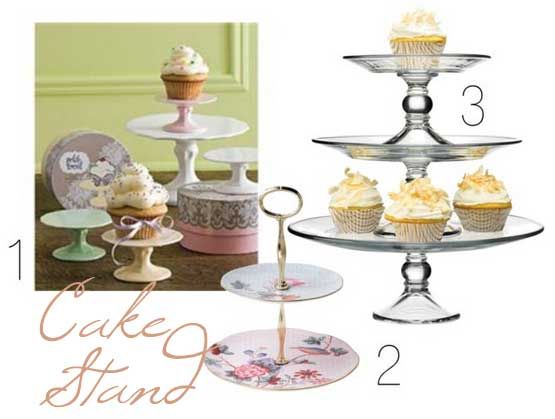 1:
Roseanna Cake Stand
// 2:
Wedgwood Set from Macy's
// 3:
The Cellar Stand
I hope you enjoyed this DIY!